---
---
BRAND E&L AIRSOFT

Rifle AK710 SBR BLACK Platinum Version.
(New super improved PLATINUM version).
Electrical operation.
Shooting Mode: safe - single shot - burst.
Steel body.
Polymer & glass fiber stock CRANE adjustable.
RAS aluminum CNC handguard.
Battery housed in the cover receiver (not included).
(Recommended stick AK battery).
Length 745/830mm.
Weight 3500gr.

TECHNICAL FEATURES:
Reinforced steel QD gearbox.
QSR spring guide bearing quick release.
M90 variable pitch spring.
9mm steel bushings.
18:1 CNC steel gears.
CNC steel machined cylinder.
Air nozzle with inner O-RING.
POM reinforced piston with 3 steel teeth.
Piston head silenced.
HIGH TORQUE short shaft motor.
290mm precision inner barrel 6.04mm.
Low resistance silver cables and switches.
New GEN.2 Magwell Spacer system that makes easier the reload of magazines.

IN THE BOX:
Rifle AEG AK710 SBR BLACK Platinum Version.
MID-CAP metal magazine 120bb.
Oil bottle (empty).
Magwell Spacer.

E&L Airsoft is a new quality on the softair market.
Their replicas are produced in the same factory that produces real firearms. In fact, all of their airsoft rifles are virtually identical to real counterparts, both as material, as a realism and weight of replica. They are made with the use of finely hand-worked steel components. Some outside parts are the same as used in original weapons and come from the same production line. Externally, the maximum number of possible elements was made as a 1:1 copy of the original, completely according to military specifications.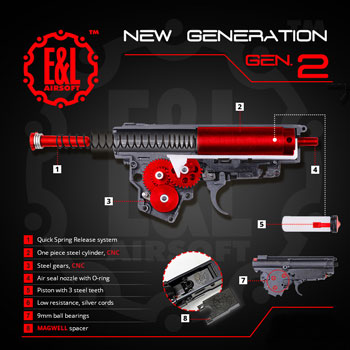 ---